An abnormally adherent placenta occurs when a defect in the endometrial lining that lies under the placenta ( the decidua basalis) allows the placenta to grow to varying depths. beyond the lining of the uterus (endometrium) into or through the myometrium (wall of the uterus) and sometimes into the adjacent bladder and intestines.  At delivery the placenta fails to separate from the uterine wall. Manual attempts to remove the placenta may cause profuse hemorrhage. The condition is collectively referred to  as "placenta accreta". 
The three types of abnormally adherent placenta are defined according to the depth of invasion by the placenta into the myometrium. [1]

Placenta accreta: The placenta grows superficially into the myometrium (muscular wall of the uterus). This is the most common form of an abnormally adherent placenta and occurs in 75% of cases.

Placenta increta: The placenta grows into the myometrium . This occurs in 18% of cases

Placenta percreta:. The placenta grows completely through the uterus and may invade surrounding structures such as the bladder.and bowel. Fortunately, this is the least common form and occurs in about 7% of cases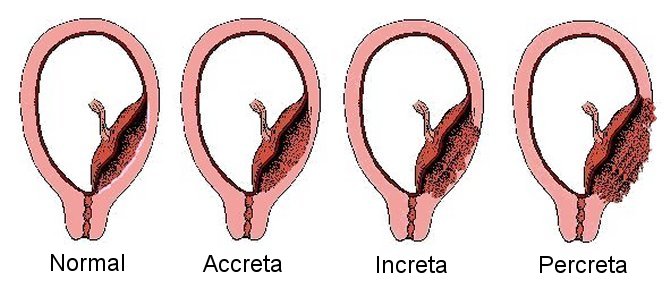 LifeArt Image copyright 2007 .Modified by Focus I.T.2014
RISK FACTORS
The most important risk factor for the development of placenta accreta appears to be placenta previa. Patients presenting with a placenta previa and an unscarred uterus have a 5% risk of clinical placenta accreta. The incidence of placenta accreta increases to 24% in women with a placenta previa and one previous cesarean section . The risk continues to increase with each additional cesarean section up to 67% in women with a placenta previa and four or more cesarean sections [4].
Placenta Previa with Prior Uterine Incisions:  Effect on Incidence of Placenta Accreta
| | |
| --- | --- |
| Number of Prior Uterine Incisions |  Percent with Placenta Accreta |
| 0 | 5 |
| 1 | 24 |
| 2 | 47 |
| 3 | 40 |
| 4 | 67 |
Clark SL, Koonings PP, Phelan JP. Placenta previa/accreta and prior cesarean section. Obstet Gynecol 1985 Jul;66(1):89-92
Other risk factors that have been associated with the development of placenta  accreta include [6]:
A history of myomectomy 

Asherman syndrome 

Previous uterine thermal ablation ,

Uterine artery embolization 

Maternal age greater than 35 years old,

Second-trimester serum levels of AFP and free beta-hCG greater than 2.5 multiples of the median 
EVALUATION
Placenta accreta should be suspected in all women with placenta previa or when the placental location overlies a previous uterine scar.
Ultrasound [2]
"Grayscale ultrasonography is sensitive (77–87%) and specific (96–98%) for the diagnosis of placenta accreta The presence and increasing number of lacunae within the placenta at 15–20 weeks of gestation have been shown to be the most predictive ultrasonographic signs of placenta accreta".
Additional findings on grayscale ultrasonography that suggest placenta accreta is present include [7]:
● abnormal placental lacunae.
● thinning or disruption of the hyperechoic serosa–bladder interface
● presence of focal exophytic masses invading the urinary bladder
● loss of or irregular retroplacental sonolucent zone
MRI may be helpful "When there are ambiguous ultrasound findings or a suspicion of a posterior placenta accreta, with or without placenta previa, ultrasonography may be insufficient."
COUNSELING [2, 7]
 All women with placenta previa and their partners should be counseled regarding timing of delivery, the potential need for hysterectomy, blood transfusion cell-salvage, or intervention radiology
Women suspected of having placenta accreta , in addition to the above, should also be counseled about leaving the placenta in place, and possible maternal death
Concerns, queries or refusals of treatment should be addressed and documented clearly.
Patients suspected of having a placenta percreta should have consultation with a Gynecologic oncologist or other surgeon experienced in the resection of invasive neoplasms prior to delivery. Consultation for suspected placenta accreta or increta may also be warranted
MANAGEMENT
The average blood loss at delivery in women with placenta accreta is 3,000–5,000 mL . Many women will require more than 10 units of packed red blood cells. Mortality has been reported to be as high as 7%.  As stated by The American College of Obstetricians and Gynecologists (ACOG)  "Placenta accreta is a potentially life-threatening obstetric condition that requires a multidisciplinary approach to management."[2]   [2]
Timing of Delivery [8, 2]
The Royal College of Obstetricians and Gynaecologists (RCOG) recommends " Individual characteristics should be considered, but with the planning needed for the
especially high-risk cases suspected of having placenta accreta, planned delivery at around 36–37 weeks of gestation (with corticosteroid cover [15]) is a reasonable compromise" [7]
ACOG recommends delivery at 34 0/7–35 6/7 weeks of gestation . "The timing of delivery should be individualized, depending on patient circumstances. Combined maternal and neonatal outcome is optimized in stable patients with a planned delivery at 34 weeks of gestation without amniocentesis."
 Patients with vaginal bleeding, contractions , or premature rupture of membranes may need to be delivered at 34 weeks or sooner [9].
If there will be insufficient blood bank supply or inadequate availability of subspecialty and support personnel at the time of delivery then transfer of patient care to a center where such services are available is recommended.
Delivery [2,10]:
 "Current evidence is insufficient to make a firm recommendation on the use of balloon catheter occlusion or embolization to reduce blood loss and improve surgical outcome."[2].
Preoperative cystoscopy with placement of ureteral stents may help prevent inadvertent urinary tract injury in patients who have extensive intrauterine adhesions.
 If accreta is highly likely a three-way Foley catheter should be placed in the bladder through the urethra to allow irrigation, drainage, and distension of the bladder, as necessary, during dissection
 It is reasonable to await spontaneous placental separation to confirm placenta accreta clinically.
"Generally, the recommended management of suspected placenta accreta is planned preterm cesarean hysterectomy with the placenta left in situ because removal of the placenta is associated with significant hemorrhagic morbidity. However, surgical management of placenta accreta may be individualized." [2]
For example, the presence of a small focal placenta accreta would allow for more conservative management.[14]
Medical management should only be considered when the patient has a strong desire to preserve her fertility, is hemodynamically stable, and is willing to accept the risks (infection and later hysterectomy) involved in this conservative approach.[2]
 Patients wishing to have medical management of placenta accreta should be managed at a tertiary care center.
Preoperative Checklist :
Patient information , multidisciplinary checklist, and consents should be identified and verified

Persons to be involved in the patient's care should be informed of the patient's admission where appropriate.

Anesthesiologist

Main OR supervisor.

Neonatologists

Intensive care specialist

Hospital House supervisor

Maternal Child Services Director or Women's Services Clinical Supervisor

The involved consultants (such as gynconcologist, urologist, or general surgeon)  should be on site and available, during the planned surgery. The blood bank and blood bank supervisor should be placed on alert for a potential massive hemorrhage.

Massive Transfusion Policy should be activated, and institutionally established massive transfusion protocols should be followed

Where available, cell salvage should be considered and if the woman refuses donor blood it is recommended that she be transferred to a unit with a cell saver.
Example of Multidisciplinary Checklist for the Management of Suspected Placenta Accreta [12,13]
Name                                                                      DOB
Estimated due date:                                           Confirmed by
Diagnosis                          Accreta                 Increta                Percreta
Ultrasound findings:Placenta location Interruption of bladder uterine interface   Placenta protrudes into bladderOther:
MRI findings:
Previous surgery
Desires future fertility?             Yes           No
Accepts blood ?                        Yes           No
Date and results                Blood type                    Blood antibody screenCBC                                  PT                             PTT
Has patient received a blood transfusion? If yes give detailsYes             No
Has patient received antenatal steroids ? If yes , give dates of treatment.Yes                      No
Date of planned surgery                        Gestational age on date of  surgery
To be performed day of surgery
4 units packed red blood cells on hold  Yes    No
Hysterectomy tray present ?                Yes    No
Cystoscopy tray present ?                            Yes    No    Not applicable
Primary OBGYN                 Contact informationGynOncologist                 Contact informationOther                              Contact information                       
REFERENCES:
1. Miller DA, Chollet JA, Goodwin TM. Clinical risk factors for placenta previa-placenta accreta. American Journal of Obstetrics and Gynecology. 1997;177(1):210–214.
2. Placenta accreta. Committee Opinion No. 529. American College of Obstetricians and Gynecologists. Obstet Gynecol 2012;120:207–11. PMID: 22914422 http://www.acog.org/Resources_And_Publications/Committee_Opinions/Committee_on_Obstetric_Practice/Placenta_Accreta
3. Bowman ZS, et. al., Risk Factors for Placenta Accreta: A Large Prospective Cohort. Am J Perinatol. 2014 Oct;31(9):799-804. Epub 2013 Dec 12. PMID: 24338130
4. Clark SL, Koonings PP, Phelan JP. Placenta previa/accreta and prior cesarean section. Obstet Gynecol 1985 Jul;66(1):89-92
5 Ballas J, et . al., Identifying sonographic markers for placenta accreta in the first trimester. J Ultrasound Med. 2012 Nov;31(11):1835-41. PMID: 23091257
6 Hung TH, et. al., Risk factors for placenta accreta. Obstet Gynecol. 1999 Apr;93(4):545-50. PMID: 10214831
7. Royal College of Obstetricians and Gynaecologists . Green-top Guideline No. 27. Placenta praevia, placenta praevia accreta and vasa praevia: diagnosis and management.
London. January 2011 https://www.rcog.org.uk/globalassets/documents/guidelines/gtg27placentapraeviajanuary2011.pdf.
8. Medically indicated late-preterm and early-term deliveries. Committee Opinion No. 560. American College of Obstetricians and Gynecologists. Obstet Gynecol 2013;121:908–10. PMID:23635709
9 Bowman ZS, et al., Risk factors for unscheduled delivery in patients with placenta accreta.Am J Obstet Gynecol. 2014 Mar;210(3):241.e1-6. doi: 10.1016/j.ajog.2013.09.044. Epub 2013 Oct 2. PMID: 24096181
10. Chantraine F, et. al., Individual decisions in placenta increta and percreta: a case series.J Perinat Med. 2012 Jan 23;40(3):265-70. doi: 10.1515/jpm-2011-0156.PMID:22505505
11. Fitzpatrick KE, et. al., The management and outcomes of placenta accreta, increta, and percreta in the UK: a population-based descriptive study. BJOG. 2014 Jan;121(1):62-70; discussion 70-1. PMID:23924326
12. Placenta accreta. Publications Committee, Society for Maternal-Fetal Medicine, Belfort MA. Am J Obstet Gynecol. 2010 Nov;203(5):430-9. PMID: 21055510
13. El-Messidi A, et. al. A multidisciplinary checklist for management of suspected placenta accreta. J Obstet Gynaecol Can. 2012 Apr;34(4):320-4. PMID: 22472330
14. Hull AD and Resnick R. Placenta Previa, Placenta Accreta, Abruptio Placenta, and Vasa Previa. In: Creasy RK, Resnik R, Iams JD, eds. Creasy and Resnik's Maternal-Fetal Medicine: Principles and Practice. 7th ed. Philadelphia, Pa.: Saunders/Elsevier; 2014:736
15. Royal College of Obstetricians and Gynaecologists. Green–top Guideline No.7: Antenatal corticosteroids to reduce neonatal morbidity and mortality. London: RCOG; 2010
Copyright © 2014 by Focus Information Technology. All rights reserved